170915 <--- last update
NAJO MUSIC
‡‡ home ‡‡ about ‡‡ tracks/shop ‡‡ max ‡‡ contact ‡‡
Najo Modular Interface V 2.5 for Max 7/8 (MAC & PC)
NMI est librement distribué par l'Ircam (http://forumnet.ircam.fr).
NMI is FREE and distruted by Ircam (http://forumnet.ircam.fr).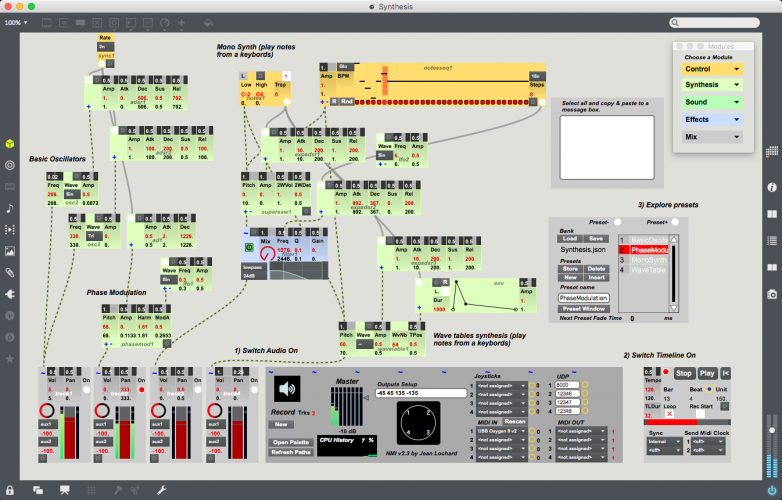 ELKA EK/EM 22 editor (MAC/PC v1.03 29-05-17)
Un editeur de presets pour ce synthé des 80's. Ceux qui possède cette machine comprendront pourquoi un éditeur en facilite la programmation... Le canal MIDI global de la machine doit être réglé sur 1 ; par défaut l'éditeur utilise le preset 65 comme tampon. Merci à Chaosmoon pour le slider façon Elka et pour son patch qui m'a servi de base pour ce programme.
A preset editor for this synth of the 80's. Those who have this machine in there studio well enderstand why an editor is necessary to programm it... The global channel of the synth must be 1 ; by default, the editor uses the preset 65 to write the new configurations. Thanks to Chaosmoon for the slider design and the basics ideas I used to build this editor.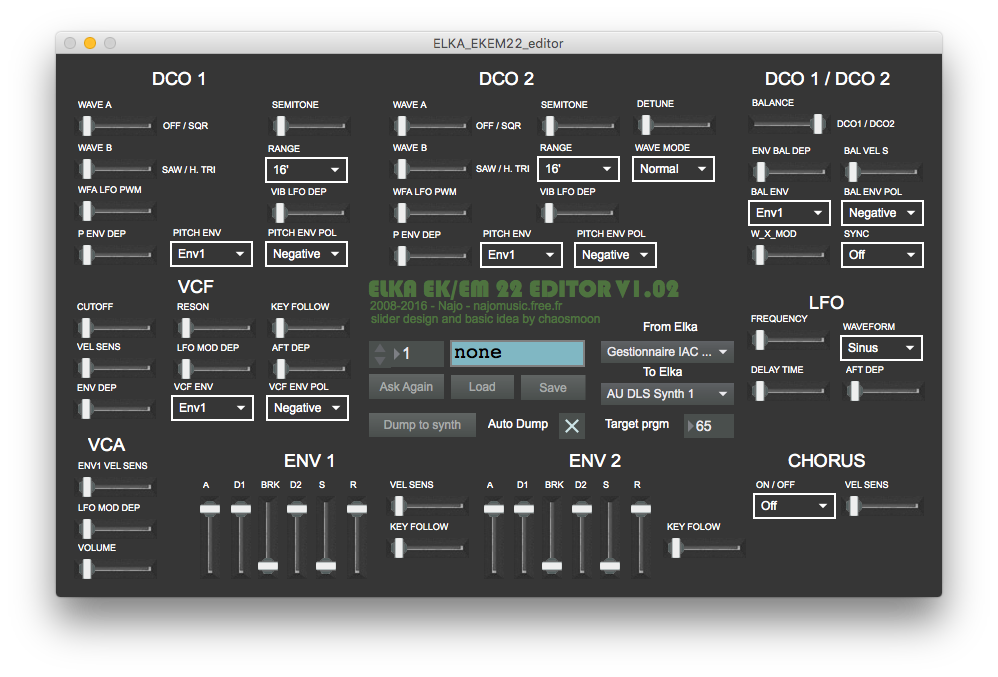 Mac ---> ELKA_EKEM22_editor
PC (Win10) ---> ELKA_EKEM22_editor_win10
Old windows versions :
PC (Vista) ---> ELKA_EKEM22_editor_win
PC (XP) ---> ELKA_EKEM22_editor XP
Thanks to Peter from Greece for the XP build !
Najo Logic Control Display Emulator (MAC)
Un émulateur du LCD d'une Logic Control ou d'une Mackie Control...
An emulateur of the LCD of a Logic Control or a Mackie Control...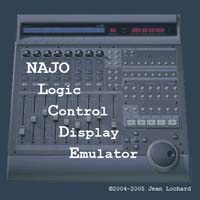 Mac ---> najo-lcde.zip